Before signing an free program requiring you to sign a employment contract, call us! You can make up to $65-80K with your CDL. We offer grants for qualified candidates and also offer Guaranteed financing. Make 20K more your first year when you do not sign a employment contract and attend a private CDL truck driving school.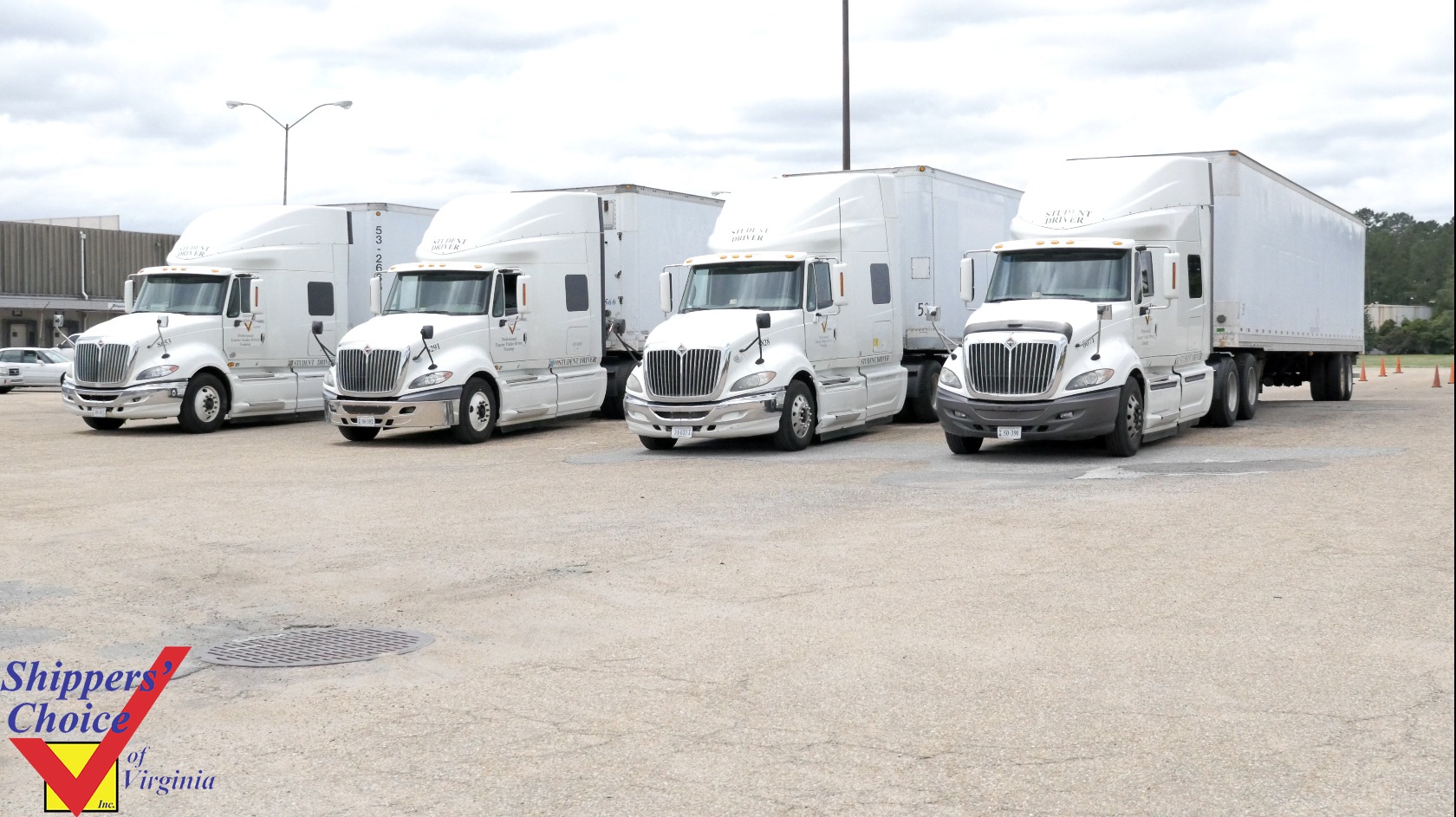 Truck Driving School in Bridgewater, VA – Shippers Choice
       See if you qualify for truck driving school grant program at Shippers' Choice.
DMV testing for our truck driving school is done on site at Shippers Choice

160 Hours of Range, CDL Road, and Classroom Training at each location for our truck driving school

Prepares the Student for an Entry-Level Professional Driving Position

CDL License Exam Training and Preparation courses at our truck driving school

Full-and-Part Time CDL Class Schedules at our truck driving school

Real World Immediate Hands–On Class A CDL Training

Includes Tractor Trailer to Take Your DMV Test

100 Percent CDL Job Placement Rate

CDL Graduates Earn $65-80K Plus Benefits for most dedicated routes

Guaranteed Financial Assistance with our truck driving school

DMV-Licensed Instructors With Years of Commercial Driving Experience and Teaching Experience at every truck driving school location

Industry Standard Late-Model Tractor-Trailer Training Vehicles at each truck driving school location

Recruiter Visits from Companies Hiring Our Grads at every truck driving school location

Small Class Sizes at our truck driving school locations
Another benefit of choosing Shippers' Choice near Bridgewater, VA is the flexible format of our financed CDL training. Our Truck Driving School part-time and full-time schedules for students to choose from, which helps those who are looking to learn during off hours or while working at their current jobs. Unlike other truck driving schools, we do not rush our students through a "crash course" boot camp in CDL driving without fully preparing them to successfully pass their driving test. We take the time to teach every student the necessary skills they will need to develop their skills, learn how to be safe on the road, and become effective and knowledgeable entry-level drivers. Our instructors are all talented and experienced truck drivers with decades of professional truck driving experience, and their knowledge is invaluable.
Unlike some other Truck Driving Schools that may only focus on one class of driving instruction, we offer training for both Class A and Class B licenses. In each CDL training program, truck driving students receive ample opportunities to drive Class A or Class B training vehicles on the range, giving them practical experience behind the wheel and working knowledge of all the equipment traditionally operated in day-to-day driving operations. Our instructors are patient and work with each student individually and at their own pace, making sure they gain the skills and education they need to be successful truck drivers on the road.
In addition, a commercial driver's license (CDL) can be a great starting point to launch a new and profitable career with better benefits and higher pay. On average, our students begin making $70,000 a year or more after graduation, and through our industry partnerships, many Shippers' Choice graduates receive a signing bonus of as much as $7,000 to help get them started and defray some of the costs incurred from financed CDL training. Once you start on the road and gain more experience, the sky is the limit. There are some Shippers' Choice graduates making more than $70,000 every year driving for leading shipping companies.
We have been providing commercial driver's license (CDL) training for countless people for more than 30 years, and have established ourselves as a well-known and trusted name in the truck driving and shipping industry. We also offer financial aid (financed CDL training) and assistance programs to help drivers, and we are happy to sit down and discuss aid programs with you to help you launch your new career in the commercial driving field. Call us today, and join the more than 25,000 people who have successfully graduated from our program. Or schedule an appointment at one of our five campuses: Manassas, Richmond, Charlottesville, Newport News, and Suffolk.
Types of Truck Driving School job placement options 
LOCAL CDL DRIVING
Local CDL driving is what most people preferred. Most CDL drivers want a local CDL route so they are home everyday. There is plenty of these positions out there. What to expect a little bit of a pay cut vs dedicated or OTR driving jobs. Also be aware that dedicated is sometimes counted as local driving routes. As you may just run up and back to another state in the same day but you will still be home every night. Expect a pay increase if you choose dedicated routes.
DEDICATED CDL
In Dedicated CDL Jobs, every day brings you new opportunities. Here, there is one thing you can count on — consistent miles with regular routes and best of all, great pay. Though home time miles and pay are dependent on markets and regions we offer the predictable lifestyle you're looking for in a career with solo, team and training positions available. Dedicated routes run in confined areas, and drivers with these routes will typically stay local and run the same route every day. Dedicated drivers can expect to be home every night and have routes that will generally run within one specific area.
REGIONAL CDL DRIVING
Regional CDL Jobs offer the best of both worlds: a well-balanced life on the road and frequent home time. Regional has a shorter length of haul because it runs in more confined regions, which ultimately means more frequent home time, the regularity with routes and more consistent pay. As a regional driver, you can generally expect to be home for a couple of nights every week. REgional routes are a good compromise between Local Dedicated routes, and country-spanning Over the Road (OTR) Routes.
OTR(OVER THE ROAD) DRIVING
OTR Routes are the farthest reaching routes, spanning long distances across the country. Drivers can expect to clock in many miles with these types of routes and can expect to be home every few weeks. OTR Drivers get paid to explore the beautiful American countryside and have an excellent chance to get many miles.
TEAM DRIVING
There are few opportunities, like teaming, you can enjoy many miles while taking advantage of tremendous financial rewards. With excellent freight selection, high pay and great miles, teaming is an option everyone should consider. You have the support of your driver manager to help you along the way. If you don't have a partner, we'll help you find one.