CDL Training & Truck Driving School in Virginia
Truck Driving School for Class A & Class B licenses.
Celebrating 25 years of changing lives.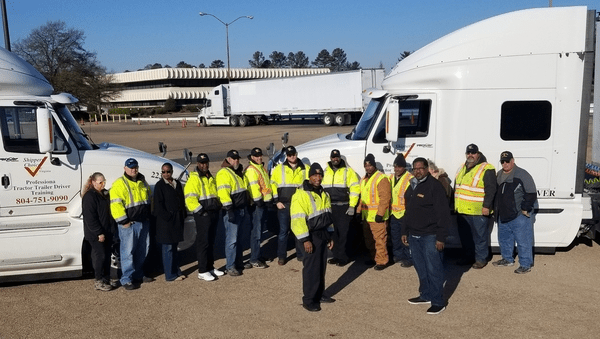 Shippers' Choice of Virginia is the best and only choice for truck driving school. Why is Shippers' Choice the best choice? Because you train in 21 Day's
New drivers make up to 

55-70K

 starting and with experience can make upwards of

$90k

.
Our truck driving school is not contract-based. Work where you want upon graduation.
Learner's Permit is not required to start.
We have 100+ industry connections for job placement assistance.
Unlike our competition, we do not charge trucking companies $500 per student hired.
We service students in Virginia, Maryland, DC, North Carolina, & West Virginia.
Around 90% of the companies that hire from our school offer complete tuition reimbursement.
We are approved for the training of eligible veterans through the post 9/11 GI Bill.
We will help you reach your goal of becoming a professional driver.
Shippers' is DMV-licensed and has been jump-starting successful careers for more than 25 years.
To make the job search even easier on our grads we've started using CDL Boards, a truck driving jobs board with thousands of jobs posted from all over the country!
CDL Jobs 
100% Paid Tuition w/ Approval
Guaranteed financial assistance with NO collateral
Free Lifetime Job Placement Assistance
Near 100% Job Placement Rate of Graduates
Over 100 companies hiring from us

Free Lifetime Refresher Training
25 years of helping change lives
You could be eligible to attend our CDL school for little or no cost to you!
Schedule a meeting for more information:
Shippers Choice CDL training school locations are in 
Shippers' Choice of Virginia, Inc. was formed as a professional tractor-trailer driver training school in January 1993. We have been training students for more than 25 years! Currently we have 5 locations to choose from. No school in Virginia has been training drivers for longer or provided better CDL training. Our over 25,000 graduates are the proof. We were founded and started operations in Woodford, Virginia, and we have been growing ever since. We just opened our newest location in Suffolk!
See if you qualify for zero dollar grants or tuition reimbursement!
As a private school, we are unlike any other training program. Students are not rushed in a boot-camp style system. Our instructors bring decades of experience to the classroom and help students build their knowledge and skills the right way. By the end of training, our students are ready to join the fleet of drivers as safe and dependable entry-level professionals (and employers know it too).